Thank you for connecting with me to handle work on your website. The nature of the work requires me to login as an Administrator to the Dashboard (back end control panel) for your website. I do not want to use (or know) your login information, so this means creating a new user account for me to access. It's easy. Just follow these steps:
Allowing Me To Access Your Website
1. Login to your own administrator account. On the left side menu, find the Users section. From the drop-down or fly-out menu (depending on which version of WordPress you are using) select Add New.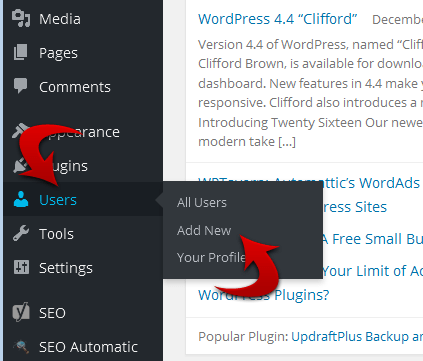 2. Selecting Add New will open a screen with the following form. Fill out the five areas indicated (see required content below the image).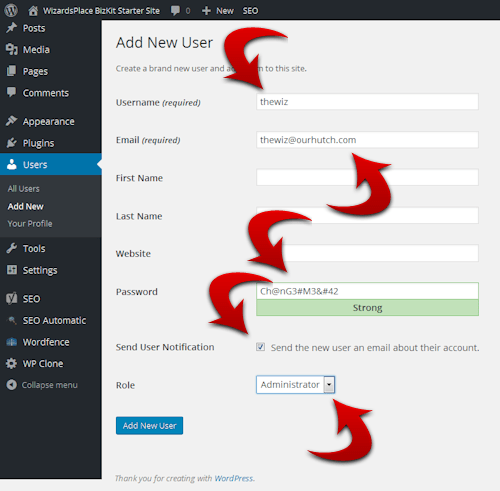 Fill in the following information on the form and then click the blue Add New User button.
User Name: thewiz - one word, all lower case letters.
Email: thewiz@ourhutch.com
Password: Ch@nG3#M3&#42 - press the Show button if necessary.
Check the Send New User An Email box if it isn't already.
Be sure to set the Role as Administrator.
And that's all there is to it. When you complete this I will be able to access your WordPress website Dashboard. On my first access I will change my password so others who read this won't know what it is.
After I Complete The Work
If you choose you may lower my access to Subscriber (unable to change anything) after I am done with the work. This will prevent me from making additional changes until you raise my access level again should you need me for future work. You may even choose to delete my user account to prevent any access at all. A new account can always be added again should you need my services again.