I've always said the 70s were when the real 60s began. In three individual years near the beginning of that decade three unrelated things occurred that would affect me significantly a little later in my life.

The first was that 1971 found me enrolled in university studying theater arts and dreaming of being a director. Many things would happen there that would bring entirely unrelated things together in ways I could not have predicted at the time. Not the least of these was meeting the young woman who would later become my first wife. She was completing her degree in order to become a school teacher. That fact would be important too.

The second was a song that hit number one on the Billboard Hot 100 chart on June 10, 1972. It was a cover version by Sammy Davis Jr. of The Candy Man, written by Leslie Bricusse and Anthony Newley, and which originally appeared in the 1971 film Willy Wonka & the Chocolate Factory.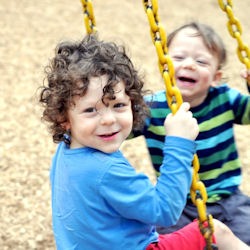 The third was the #2 hit on the Billboard Hot 100 chart "Playground In My Mind" on March 24, 1973. It went on to top the RPM 100 national singles charts in Canada where it was #1 for three consecutive weeks, June 23 through July 7, of the same year.

There was no way I could know that these disparate events in 1971, 1972, and 1973 would some how all come together several years later as I directed an elementary school parent-night presentation for my then wife's class of grade three students.

As the male lead stepped forward and lip-synched "My name is Michael, I've got a nickel…" and later, finding his girl and holding her hand, "My girl is Cindy, when we get married…" to the vocals and the rest of the class mimed a virtual playground across the stage, the Chesley public school presentation was a smash hit and a great success. It was the first, last, and only time I ever directed a live stage musical.