Florida. The state that brought us George Zimmerman and Caylee Anthony. The new crime center of the country. Where's Travis McGee when you need him?
I was referred to this video today and I agree. It is most definitely worth sharing!
I am saddened every time I see one of these scam "work from home" so-called business opportunities being offered. It saddens me because I know several more people will be taken advantage of and, while a few may make a little at first, no one wins in the long run and most lose.
I hope everyone here knows the old adage, "If it looks too good to be true it probably is!" It applies equally today in these troubled financial times when so many scams are popping up. If the program is referred to as a "matrix" it is probably illegal and certainly doomed to failure.
Numbers are strange and powerful things. They are all around us, in everything we do, and everywhere we look. You could say the Universe is made up of numbers. Lora and I need your help with these numbers…

I don't seem to recommend too many books that would be classed as love stories though I do read them from time to time. I guess, in part, it's because there are few really good ones. Oh, there's lots of sappy ones, and tear-jerker ones, and many with bits and pieces that speak to you through the heart. But the really great ones that rise to the top like cream in the country milk bottle, well, they're just rare. This is one of those rare ones and it's worth the price of admission!

When I look back over my life I see the big choices I made. Some turned out well. Some did not go so well. But I cannot honestly say I wish I had done any of them any differently at all. The simple truth is that I am, today, the sum total of all I have done, and the result of all of those choices I made, over the years.

Yes I am. Proudly. I was born and raised in St. Catharines, Ontario, a beautiful city not far from Niagara Falls. I actually spent most of my childhood on a small hobby farm about five miles west of the city. I did spend two years, age 5 and 6, living in two small towns just outside Buffalo, N.Y. — Hamburg and North Collins.

My third book for Kindle on Amazon when "live" this morning. The Wiz's Guide To Successful Online Freelancing (Wiz's Guides)
isn't a huge book but it is loaded with ideas, resources, and tools to help you make up your mind about freelancing and, if you so choose, take your first steps along the right path.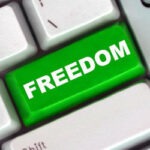 As most of you know, I run my own businesses (that's plural). They are all online businesses. I run them all from an office in a converted bedroom in our home here in Kansas. Lora and I earn our entire income online. The time together and the freedom we share is nothing less than ideal.

For those who have trouble keeping bits and bytes, and all the combinations like kilobytes and megabytes and gigabytes, sorted out I found this chart that might help your sort them out just a little bit. For others it may just be interesting.