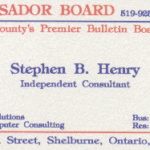 In the 1980s almost the only way to "get online" involved a local bulletin board system (BBS), a fledgling company called Quantum Link (Q-Link) that catered to the Commodore 64 (C-64) personal computers, or another provider, CompuServe. And it cost! I paid something like $46 an hour to connect from the somewhat remote Canadian town, where I lived at the time, to Quantum Link in Virginia.
little girl comes walking down
across the hillside green
place each footstep gently now
on stones – not in between
Arise,
The wind has found the sky.
Find string,
The time has come our kite to fly.
1983 was a strange year. Watch A Christmas Story and you will know what I mean. Our young family had recently returned to my home town of St. Catharines. Our second home there in three years was our seventh home since my first wife and I had been married. My older daughter, Anne-marie, went to Victoria School that year. It was where all the school scenes in the film were shot. Producers apparently could not find a suitable period school in the U.S. and Victoria school was about as close to the mark as could be found.
1969 was a very good year. The Archies (Sugar Sugar) were at the top of the charts. Ford/Mercury was cleaning up the tracks at NASCAR; so much in fact that Richard Petty left his long tenure with MoPar in oder to get himself behind the wheel of one of those track burning modified Torino Talladegas. And I was turning 18.


In Case You're Wondering, That's Petty, Not Me!

There was another burner on the loose — a guy from Windsor, Ontario, named Billings (http://www.spitcrazy.com/jerrybilling.htm) who was burning up tracks in the sky flying Dale Robertson's WWII Spitfire (MK923) at airshows. Billings knew a thing or two about Spits, having flown one over Normandy on D-Day.

As many of you know I don't do mornings well. I've spent my life thinking "outside the box" (or with no box at all!) and so I always saw it as, "The early worm gets taken by the bird!"
Arthur C. Clarke is the well know science fiction writer who gave us such monumental stories as 2001 A Space Odyssey and Randevous With Rama, and lesser known, though equally important works like The Fountains Of Paradise. Many don't know that he was actually a formally trained mathematician and scientist as well.
"What the heck is Blab?" a friend asked me the other day when I told him I was on Blab three times a week. Well, Blab is a rather appropriate name for a live-stream video social sharing platform where people sit around projecting their video image and blab. Well, they speak, share, present, and all other good things referring to communication but, when it comes down to it, yeah, they blab!

My new Wiz's WP Website Boot Camp is a WordPress bootcamp with a difference. It is an up-to-date combination of online self-directed study content, downloadable materials, live-streaming real-time classroom sessions, and real engagement with the instructor (me!).