You know the one that begins, "How do you fit five Elephants in a Volkswagen?" Well, this post could very easily turn into an elephant joke, too, except for the fact it is actually true. And talk about being the butt of an elephant joke!

I spent most of my more youthful life in Ontario, Canada. At one point I lived in the City of Owen Sound located on the south west shore of Georgian Bay. Its biggest claim to fame, I suspect, was its status as home port for the ferry that operates every summer from Tobermory (The Tub, at the northern tip of the Bruce Peninsula) to Manitoulin Island (that big piece of land near the northern shore of Lake Huron).

That's pretty much all Owen Sound is known for except, perhaps, one other thing: its nickname: "The Butt-Hole Of The Elephant".

Now, to many, that may seem offensive, and I apologize to the weak of heart, mind, or spirit. No offense is meant and a nick name is simply, well, what it is. I am not big on putting asterisks, or other characters, to pseudo-hide some of the letters of a word that might otherwise be offensive. If you know what the word is it really does not matter if it is partly hidden with keyboard characters or not. It is, after all, just a word!

The interesting part of all this, and why it is no joke to the people of the fine city of Owen Sound, is where the nick name comes from. Here is a map of southern Ontario: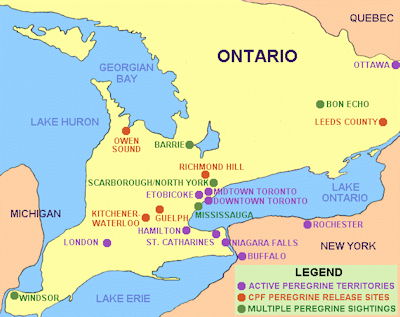 It shows several of the key cities scattered across the province of Ontario; Niagara Falls, Toronto, St. Catharines (where I was born). Owen Sound (in red) is a little left of center. Their politics probably runs that way too, but that's a post for another day.

Nothing is generally perceivable as out of the ordinary until you turn the map 90 degrees to the right and the discerning eye may begin to pick up the outlines of a familiar silhouette; a trumpeting elephant. Then, look again at where Owen Sound is located!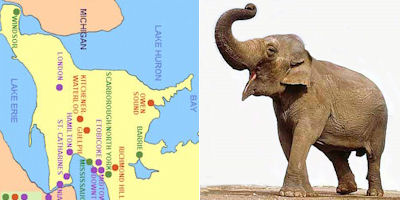 Oh, and for those who didn't already know, but are just dieing for it, the answer is: "Two in the front, two in the back, and one in the glove compartment."

---